How to enjoy Wizarding London without breaking into Gringotts
One of the things I enjoyed the most about London is feeling like I've landed inside the Harry Potter books each time children wearing school uniforms pass by, or whenever I see someone with a Prefect badge on the Tube (no, it wasn't Percy). But besides aimlessly walking and soaking up the atmosphere, I have deliberately visited some Potterian locations, which I'll tell you about now.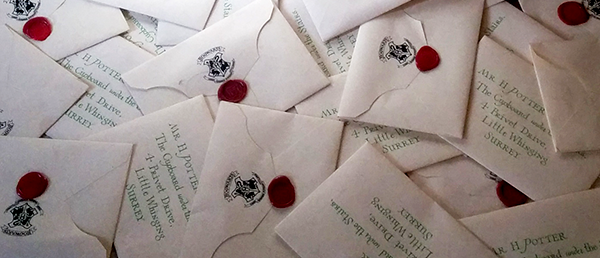 Harry Potter and the Famous Train Station
cost: free / as much as you want to spend on merchandise
I arrived at King's Cross after volunteering at the Greater London Vegan Festival nearby. Although the Hogwarts Express departs from King's Cross, platforms 9 and 10 don't actually have a barrier between them – so an artificial entrance to platform 9 3/4 was built (as opposed to the real one, of course), as well as an official merchandise shop.


Since I came on a Saturday, they were both swarming with Potterheads - so I didn't stay long, but I've heard it's better to visit on weekday evenings. If you want a picture with the trolley, you can ask the employees to take it with your own phone rather than pay for professional one. The items in the shop, being The Official Merchandise, cost accordingly - you can find unofficial ones online or in other shops.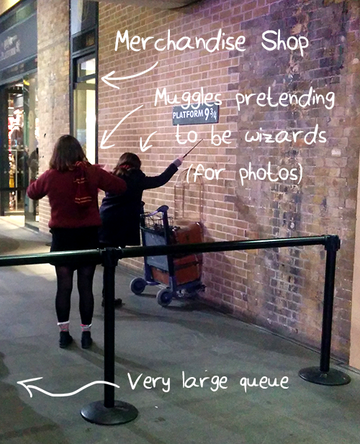 Harry Potter and the Graphic Art
cost: free, or as much as you're willing to spend on merchandise
Minaphora Mina and Eduardo Lima met on the Harry Potter film set in 2001, when they were both working on graphic art for the movies, and eventually established their own studio. They do work on non-HP things (such as illustrated classic fairy tales – Peter Pan, Beauty and the Beast, and others), but the nine movies - eight Harry Potter movies, and the not-so-new Fantastic Beasts movie - have been keeping them rather busy (and since there are going to be four additional Fantastic Beasts movies, I don't think Minaphora and Eduardo are going to get bored anytime soon).
House of Mina Lima is a gallery that allows simple Muggles like us to glimpse the original art created for the movies, and buy some printed copies (and sometimes the original art itself). Entry is free, and I happened to come just before a free tour was about to start. The House is very visitor-friendly – they have a few free tours a week, and sometimes Minaphora and Eduardo come to answer questions in person, so if you're around I'd recommend to use social media to choose the best time to come (though you'll probably visit Soho anyway at some point, so you can just pop in).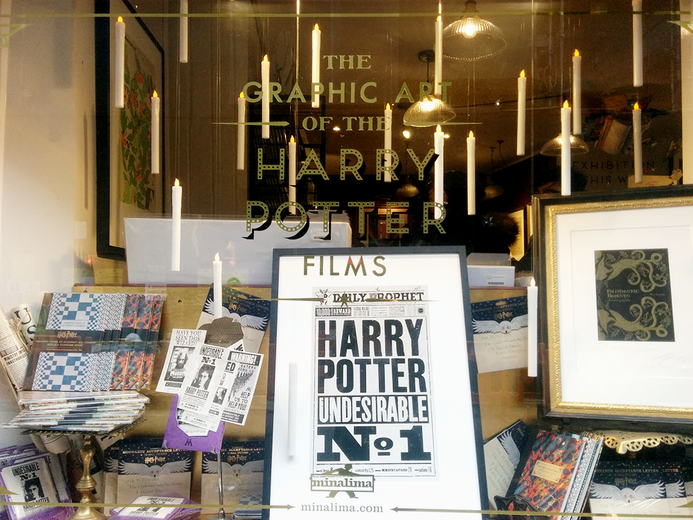 So what is graphic design for a movie set? Since the films take place in a magical world that is actually hidden inside our own, any graphic products you see – books, magazines, signboards, candy wrappers – have to feel magical as well as real. Some items are described in the books - such as the Howler Ron receives from his mother - and have to be designed accordingly. Others need additional reinventing. Remember the scene at Weasleys' Wizard Wheezes?  The book only mentions a few out of the twins' products, so MinaLima had to invent about a hundred of these, and then design the posters (they wanted these to have a cheap, home-made look, and were inspired by firework wrappers from the 1970s). And yes, all of this effort and only 90 seconds of screen time, during which you don't even see most of the designs. Here's one of them - you can buy it online or in the shop. Personally, I enjoyed looking at the designs, but didn't feel the need to hang any of them on my wall - which is fortunate, as I have neither a home nor walls. I did buy some badges and postcards (they don't need walls!) for about ₤2-3 each.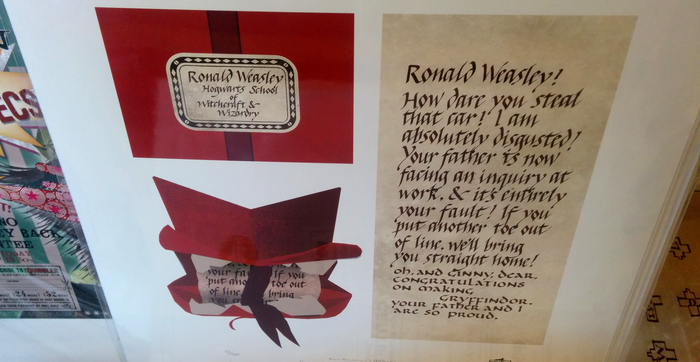 The Howler sent by Mrs. Weasley to Ron in Chamber of Secrets
Each book you see onscreen – and even some you don't see at all – is printed out, complete with covers as well as actual pages inside. This is done both to help the actors believe in the universe they're creating, and to ensure that if the book does end up being opened in front of the camera, the designers won't have to create a new one at the last moment (something similar happened when there wasn't a waterproof version of the book that Neville used to help Harry out with the second task – and Eduardo had to print it during the night).
The lady leading the tour was lovely and answered my questions patiently, elaborating on more than just the basic facts. For instance, I discovered that there's a special department for making props (such as books and clothes) look older and more used. So if you see Dan Radcliff, as Harry, wearing the same outfit during different scenes – it might be actually a different outfit, since they have a few versions of each item, each "ruined" to a different degree. Which makes sense – your shirt probably doesn't stay clean after a few hours of fighting Voldemort.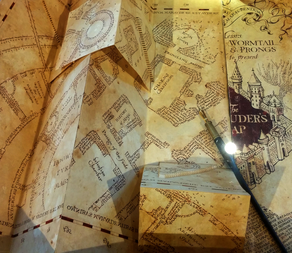 The Marauder's Map, designed by hand and  according to the actual Hogwarts filming set. Minaphora had to redraw it after her toddler has drawn all over it with a golden pen.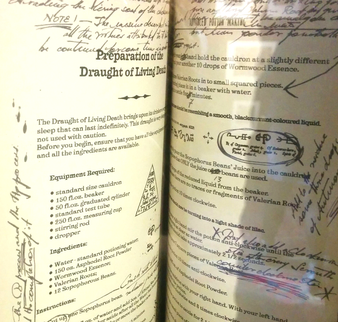 Advanced Potion-Making, property of the Half-Blood prince
Harry Potter and the Cursed Child 
cost: ₤40 - that's about $/€50 
*This part is spoiler-free!
Having read the book the day it came out, I already knew what was going to happen, but really wanted to see it onstage. The play consists of two parts (each of them 2.5 hours, including a break) that you can watch on the same day or on different days (there are days with both parts shown one after another, days with either parts one or two, and days with no plays at all). Since I'm quite a last-moment person, I only started looking into it seriously a short time before I left London. Though officially the play is sold out until 2018, there are still a few ways to get tickets: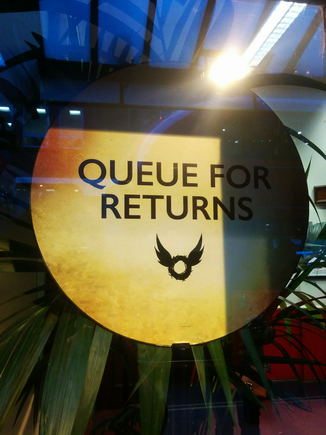 1. Browse the official website – things might pop up (I tried, but everything was too expensive).
2. Buy a ticket from someone who resells it (f.i on ebay). Same results here; It's also important to mention that the production obviously doesn't approve of this and reserves the right to deny entry with such a ticket, though I have no idea how they would know. Anyway, if you do it, be careful. 
3. The Friday Forty: Every Friday, there's a virtual queue in which forty tickets (for the next week) are randomly offered to participants. I only tried this once (again, last-moment person) and didn't succeed.
4. Ticket office (at Palace Theater, Soho): In the beginning, I only asked about same-day tickets, and the ones they had available were too expensive for me (₤ 70 per part). The gentleman at the ticket office told me I could wait at the return queue, and he'd let me know if anything came up for the same day. I was first (!) in line, whipped out my Kindle and began reading a book while waiting. 
Then I realized I hadn't actually asked about tickets for other days, and I still had a few days left in London. At this point the gentleman was probably a bit exhausted by my various enquiries, but he very helpfully offered me tickets for the next day, both parts – ₤20 per part. I was quite excited, and when asked for my surname, I thought he said "phone number" and replied that I had to check since I don't remember it. The only catch was the restricted view, but I decided it was worth it, and bought them!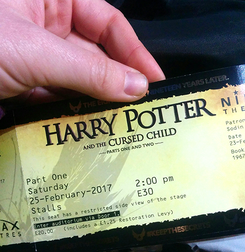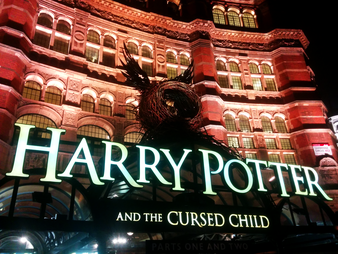 The theater interiors are beautiful, and the festive atmosphere was reinforced by the ticket collectors who were wearing Hogwarts scarves. Merchandise was sold here as well - specific Cursed Child products and "regular" merchandise such as  Hogwarts ties.  You can get drinks and snacks inside, but not actual meals - and you aren't allowed to bring your own food, so I'd suggest eating before the first part and between the parts - I went to Vegan Hippo for a tasty lunch.

"Restricted view" means sitting  very close to the stage (I was in line E, so there were only four lines in front of me), but being completely unable to see a small part of it. Another part was obscured by a column, but this could be solved by shifting in your seat according to the action on stage (which me and my seat-neighbors did).

I knew the plot already, but even if I hadn't, I don't think the location of the seat would prevent me from understanding the play. Obviously it wasn't the best seat in the theater, but it was good enough and I didn't regret buying those tickets. Having said that, I suppose better tickets do improve the experience.
In between parts we got a badge to remind us to Keep the Secrets - which I happily added to my collection. I think it's a good idea not to spoil the play for people who haven't seen it (plotwise as well as artwise), so I made this post spoiler-free (though there's a lot of spoiler-full information on the internet, if you want it).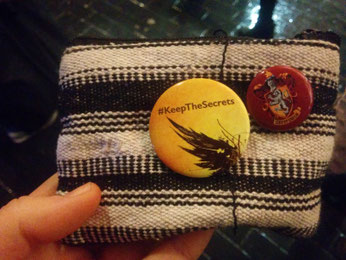 What I can say is that I enjoyed the play a lot. The actors did a great job making the characters come alive, and the play felt much more real than the movies – since I was physically in the same room, which made me feel as if I was immersed in a magical universe. There were also many special effects to help reinforce that feeling. The play and the actors themselves have been nominated for different theater awards (the latest being the Olivier Awards), so apparently I'm not the only one who thinks so. I especially liked Anthony Boyle (Scorpius Malfoy), who helped spice the story up with some humor.
Most of the people I saw in the theater were grownups – I'd say 30 to 50, but I'm not a very good age guesser – which means they probably read the books as children or young adults, and I was happy to see they still remember the wizarding world. There were many excited reactions during various plot points – probably from people who haven't read the play – so it might be best to watch it as a play instead, or before, reading it, so you can actually be surprised as the events unroll physically before you (unless you have zero patience when it comes to books, like me). But even having read the book twice, I still enjoyed the play (and even have a secret desire to watch it again! OK, not so secret now) and would recommend watching it if you have the opportunity.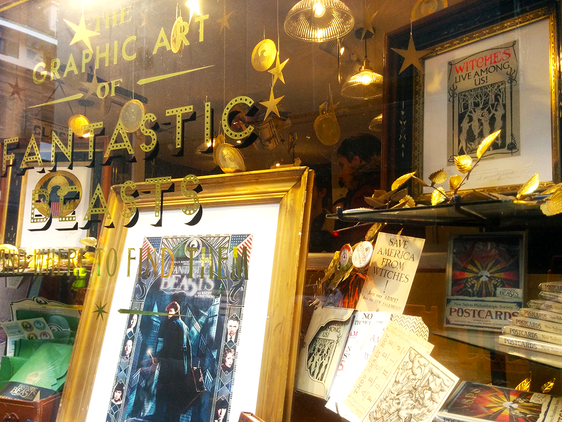 Harry Potter and the Free Tour
cost: free or as much as you want
Free tours are now a popular concept in many cities. Anyone can join, you don't have to pay anything, but you can pay as much as you want – when the tour ends. This structure lets you decide how much the experience was worth for you. Usually free-tour companies also have paid tours, but there's no catch for the free ones – if you don't want to pay at all, it's fine, and the tour guides say so themselves. I joined three different free tours by Strawberry Tours during my stay in London, but now I'll focus on the Harry Potter tour.
Our guide, Katie, was a fellow fangirl and therefore very excited about anything Potter-related, which made the tour a lot of fun, since she wasn't only stating facts – she was making it all come alive for us. We visited some movie locations – she showed us pictures so we could understand where exactly each scene was filmed – as well as places that seem to have inspired Jo to write about Diagon Alley and Knockturn Alley. We even took a picture while shouting Expecto Patronum! The tour ended near Hardy's – a sweet shop that sells Bertie Bott's all-flavoured beans and Chocolate Frogs. Unfortunately, none of them are vegan – what about vegan wizards?!
Katie also told us the inspiring story of how the book nearly didn't get published. I have heard shorter versions of the events before, but this time it felt real when I imagined a lonely woman who, having lost her mother and struggling with depression, was rejected by many publishers (apparently, people didn't think children's books were a profitable business), but eventually got a contract with Bloomsbury. As a writer and an artist, this was a strong reminder for me that – cheesy as it might sound - we should never, ever give up.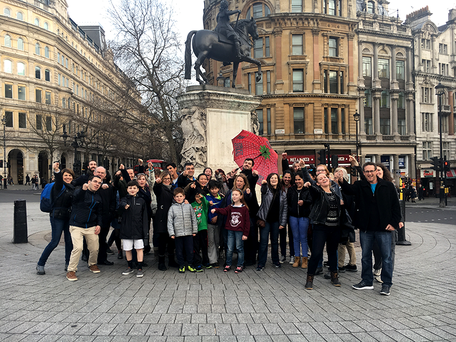 Conjuring Patronuses at Trafalgar square, location of the Deathly Hallows part 2 premiere


* I haven't gone on the famous Harry Potter Studio Tour yet, but if I go when I return to London in the summer, I might blog about it eventually.
* All graphic art designs (besides the header) are by MinaLima and were photographed with permission.