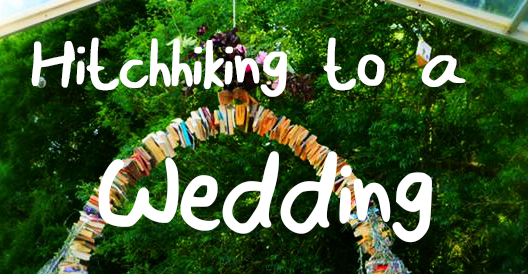 In late March, after spending twelve days in a Vipassana meditation center,  I had about a week and a half with No Plans. My no-plans-plan was to spend them hitchhiking and wildcamping around Wales.

Two days were enough to see the flaws. There wasn't really anywhere to wildcamp properly (or maybe I just didn't find the right places), and it was still cold. From a library in Brecon, I started sending Couchsurfing requests to people all around Wales. The only places I really didn't want to go to were Cardiff and its surroundings. I just wasn't feeling like going to a big city again. But if I don't find a host for tonight, I thought, I'm going to hitchhike to Cardiff and find a hostel there.  And I was about to do just that, when I received a message from a couple living near Lampeter, a small town in South West Wales - about an hour's drive from Brecon.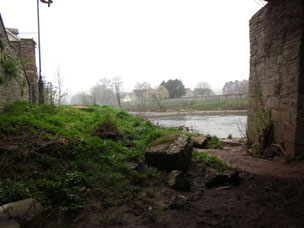 I slept here for a night (using my backpack as a bed; I couldn't really pitch a tent on stones). Well hidden, but too cold even in late March!
Despite road works on the way (an obstacle that was conquered by the lovely owners of The Hours who took me via the detour and all the way to my hosts' home), I arrived in Cwmann (by the way, that w is a vowel, as it is in Welsh. Easier to read it now, right?)
I stayed with Sion and Hope for two nights that turned into four. I've done my best to describe my stay in the Couchsurfing reference I'd written afterwards. Here it is:

"I enjoyed so many things about my stay that I'm not sure where to start! Sion and Hope made me feel perfectly at home in their lovely house from the moment of my arrival (only a few hours after I'd sent the request - which they quickly accepted, despite being busy, and even offered me to stay longer!). Their place is so cozy that you could easily just spend the day chilling on the sofa and looking at the rain outside (and that was what I did on one of my days there - together with Hope, who was great company!). There was always tasty food on the table and various music out of their huge collection playing in the background. Sion even found me a beer that I really liked - quite amazing since I've never really enjoyed drinking beer before. I enjoyed talking to both of them about many different things (and noting the differences and similarities between Israel and Wales/the UK...) and staying with them made me think about the way I'd like to live, if I settle down somewhere someday :) 
I'm so grateful guys! Hope to see you again in Wales and maybe even in Israel, and good luck with the wedding planning!"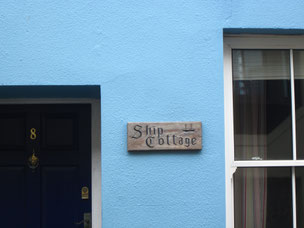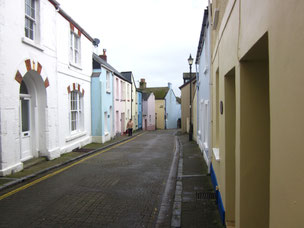 Tenby, a seaside town I explored during my stay with Hope and Sion
A couple of weeks later, I got a message inviting me to Hope and Sion's wedding on June 17th, and of course I said that I'd come. Meeting these lovely people again - as well as a bunch of new people, attending a festival-themed wedding and camping there... This was something to look forward to.
Fast forward to June 17th. I am just outside Wrexham (having hitchhiked here from Scotland two days ago), waiting for a ride with my sign.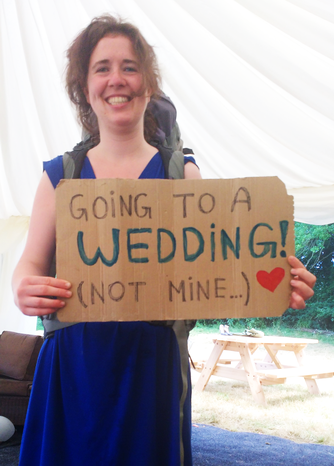 I know, my sign isn't exactly top-notch graphic design. And my marker pen is running out. 
It only takes a few minutes for the first car to stop. It's a van with three front seats, two occupied by a couple. I join them in the third seat. They're also going to a wedding - though not the same one. "That's the reason we stopped!"
It takes me three more rides to get significantly closer. I've swapped my sign for destination signs, since I need to get to a particular small town (while earlier I was just making my way along a main road) and my best shot is to find the people who are headed to the same town. From there, reaching the village where the wedding is taking place should be easy.
An elderly man pulls over. He lives in Kington - my mid-destination - but upon hearing my plans, he says that he'll take me all the way to Eardisley (a name that I manage to pronouce correctly without assistance, for a change). His son and his daughter-in-law are attending the wedding too, and Bill shows me around Kington, pointing out his house and his son's, before taking me to the village. "Just don't tell them I've been chatting all the way." "I'll tell them that you said nothing," I promise.

I arrive two hours early, and settle down in the local cafe, which also serves as a book shop, a post office and a bar. It's quite warm, and I ask about cold coffee, a request that is met with confusion in both bar and cafe. I settle for lemonade, forgetting that here in the UK "lemonade" actually means a sparkling drink that I don't like. I end up asking for cold coffee again. "I have never made cold coffee before." "Just coffee, no milk, ice and cold water." A few minutes later, a tray containing all of these is on my table.

"Are you Jewish?" asks the lady. I'm surprised - people never guess that I'm Israeli, let alone Jewish. "Yes." She hugs me. "I love Jewish people." We talk for a while, and I probably disappoint her by saying that I'm not religious at all, but at least now she can try and convince me to read the Bible. When it's my time to leave, I ask how much I should pay (having ordered both the lemonade and the coffee). "I'll get it for you," she says and hugs me again. After a short walk, I'm at the wedding.
This is the ceremony, attended by family and close friends. I actually arrived later for the reception.
I knew that Hope and Sion were planning a festival-themed wedding, not a traditional one, but knowing and experiencing is different. The bride is wearing fairy wings (which requires a particular approach to hugs), the "altar' is an arch made of old books, and as promised, there's no dress code. I feel completely in place with my flipflops. After all, I've been living out of my backpack for eight months now; I'm glad no one had expected me to produce a fancy dress. I pitch my tents next to the ones already there. 
I don't know anyone here besides the happy couple, but this alters quickly as I meet new people. "So how do you know Hope and Sion?" "I was Couchsurfing at their place a few months ago." Not what you expect to hear from a wedding guest. Bill's son, Philip, eventually finds me. "So you're the dangerous hitchhiker my dad had picked up!" 

After traveling alone for a while, and mostly only talking to people for as long as a ride can last, it's a welcome change to be around the same people for an entire evening. I eat delicious vegan pizzas, listen to the bands playing - all of them friends of Sion and Hope's - and speak to people.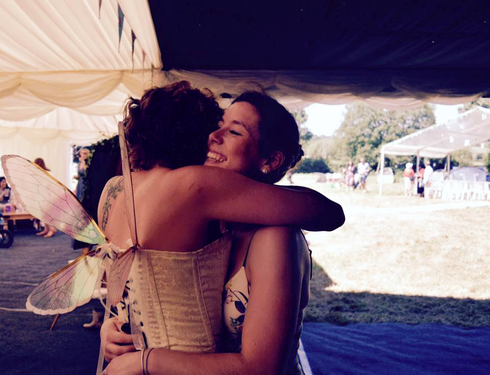 I always feel conflicted about saying that people from country X are nice. Is it really because of the country? Does it mean that in some countries people aren't nice? And yet, on my first visit to Wales, I fell in love with the people. I met so many friendly people who made me feel at home. Maybe the fact that I was visiting small towns and villages has to do with it as well, but the first thing I remember about Wales is always the people. And the people I meet at the wedding (technically in England, but most guests were Welsh) are no exception. I stay up talking until I'm exhausted. I even find myself conveying the background of the Israeli-Palestinian conflict upon request (not that I can claim to extensive knowledge). By the way, if you meet a person from a country with a complicated political situation, it's always better to ask them to tell you about it (if they want to), rather than declaring that you've got an Opinion about this place you've probably never been to and certainly never lived in. "Your country are terrorists" is not the best conversation starter. A great conversation ender though!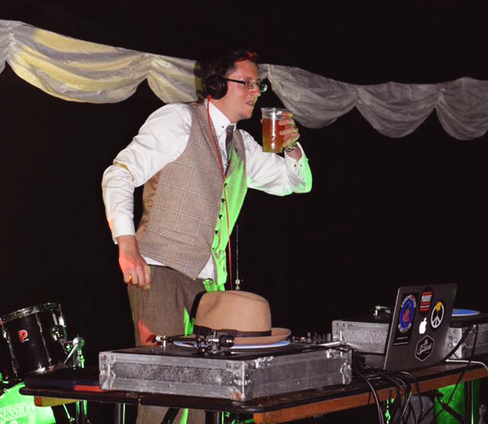 Groom by evening, DJ by night
The next morning I wake in my sauna of a tent. After weeks of camping in Scotland under nearly constant rain, I've forgotten that it's June, and that I'm not in the north anymore. When I finally scramble out, breakfast awaits, and I gobble sandwiches filled with ketchup and fried vegetables. Life is good. 

I've got no reason to hurry, so I sit in the shade doing absolutely nothing. I have no plans besides going back to Wrexham, where I'm staying in a friend's house. I have moved around constantly for almost a month. It's nice to be doing nothing for a change. 

I'm also reluctant to leave. I've met new people, and it's likely that I won't see them again in a long time, if ever. This is one of the only things about traveling that can upset me. People are my favorite part of travel. I discover beautiful souls, so many of them, then let them go. But I know that new souls will come - they always do.
The journey back only takes two rides. At Crossgates, where I assume I'll have to make my way up the main road in small bits, I'm picked up by a pick-up van (ha!). The driver, Scott, is headed to Liverpool and passing through Wrexham. Lucky!

I'm looking at the green hills and valleys as we roll and talk about life. Every ride is a blessing; no one has to pick me up. But when a ride is long - this one is about an hour and a half - it's always better to be picked up by someone with whom I can manage an interesting conversation. We talk about his daughters - one of them is a fellow Harry Potter fan. We go from Wales to England to Wales yet again, and I ask if there is any difference between the border villages on either side. Turns out that some postcodes can make rent much more expensive than others, even when both houses are on the same street. I also discover that medicine is free in Wales, but not in England. Health insurance is free in both of them.

Scott drops me off in Wrexham, which leaves me with only a short walk to where I'm staying. I don't need to hurry. I don't need to be anywhere. I don't even need to make plans, since I know where I'm going to be living from now and until late August at the earliest. I just walk. 

A few men in a car seem to be surprised by my backpackish appearance. Wrexham is not exactly a backpacker destination. People are always going to be surprised by something, I suppose. I don't mind. I'm walking. The place I'm walking to is not my home, but I don't need directions to find my way. It's a home for me, just for these next few days, and for now that's enough.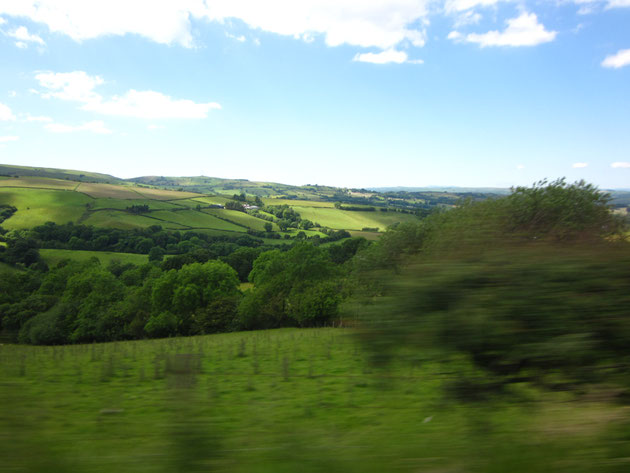 Liked my story? Pin it!