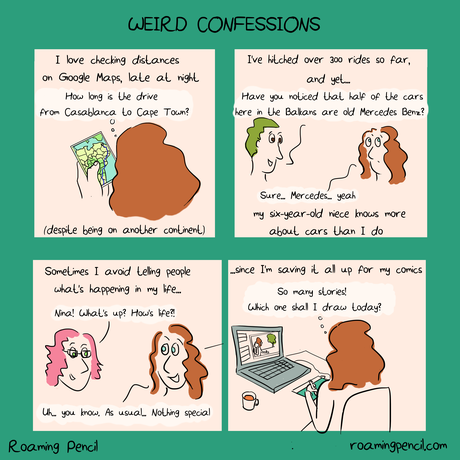 My comic strips, different as they are, are usually conceived and created quite similarly. Something happens - an event, an adventure, a conversation, or even a thought. At that moment, or maybe later, I get an idea for a new strip and write it down in my brainstorming Word file. Then, at some other point, I decide to actually draw it.
This one has a different tale though. I was contacted by a fellow comic artist (Cartoonish - his comics are in Hebrew, he's much more famous than I am and has already published a book!). He offered me to participate in his next book by creating a strip that would include some sort of reference or crossover with his own comics. I gladly said yes!
As things turned out, the first strip I created wasn't quite right for the book. Since then I've created a second one (which will hopefully appear in the book), but this means that the first one is mine to share. So I translated it into English - and here it is. It's slightly different from my usual ones, but still based on my own travels and experiences - hope you like it!